Notre collègue et ami Patrick Dular (FNRS et Université de Liège) est décédé le 6 septembre 2017, alors qu'il venait d'avoir 50 ans ...
Ses attaches avec « nous » étaient nombreuses :

pour notre Laboratoire, il est le premier contributeur « externe » pour les publications, avec 28 revues et 51 communications internationales en seulement 14 années. Ses co-auteurs à Ampère sont F. Buret, L. Nicolas, R. Scorretti, D. Voyer, R. Perrussel et L. Krähenbühl. Il a aussi été membre de plusieurs jurys de thèses (R. Perrussel, R. Marion, T. Chailloux, ) et jurys de HDR (F. Buret, M.-A. Raulet) ... Il était présent dans notre Laboratoire plusieurs fois par an (ECL et UCB) depuis 2004.

pour le LIA franco-brésilien James-Clerk Maxwell, dont il était membre du Comité de Pilotage depuis sa création en 2009 : d'une part, ce LIA est en effet centré sur ces mêmes thématiques scientifiques ; mais de plus, Patrick entretenait avec l'une des équipes brésiliennes associées au LIA (Grucad), et le Brésil en général, des liens également très étroits;

pour l'ECL dont il a été Professeur invité en 2006, et membre de plusieurs jurys de recrutement.
Nos travaux communs touchaient aux méthodes numériques pour l'électromagnétisme basse fréquence, les modèles de matériaux magnétiques et leur homogénéisation, les méthodes asymptotiques, le traitement numérique efficace des singularités géométriques, et une classe spécifique de méthodes de perturbations, qui permet par exemple d'améliorer de manière itérative la solution numérique dans des détails de structures, ou de coupler des solutions 2D et 3D. Il s'appuyait pour tous ses travaux sur l'outil Open Source GetDP qu'il développait à Liège depuis 20 ans, en collaboration avec Christophe Geuzaine.
Nous avons perdu un Maître scientifique, et un ami, très proche pour quelques-uns d'entre nous.
La reconnaissance internationale exceptionnelle qu'il avait acquise ressort du texte ci-dessous, écrit par C. Geuzaine (qui dirige l'équipe à Liège), et A. Nicolet, Professeur à Fresnel et lui aussi issu du creuset liégeois.

---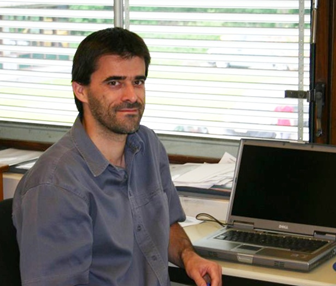 IN MEMORY OF PATRICK DULAR
Our friend and colleague Patrick Dular passed away on September 6th 2017, struck down by a sudden illness at the age of 50. He leaves behind three sons (Julien, Tom and Bruno) and his partner Pascale. Patrick was born on August 28, 1967 in Belgium. After graduating as a power systems electrical engineer in 1990, he obtained his PhD thesis at the University of Liège in 1994. A genuine researcher, his whole career blossomed out at the University of Liège, appointed by the Belgian Fund for Scientific Research (FNRS) successively as Postdoctoral Researcher in 1994, Research Associate in 1996, Senior Research Associate in 2007, and Research Director (the highest grade at FNRS) in 2012.
Patrick's research was broadly concerned with the mathematical and numerical modelling of electromagnetic systems. In particular, his interests led him to publish seminal papers on the use of Whitney finite elements for three-dimensional eddy current problems. His recent work focused on advanced techniques to handle the coupling of different physical models and numerical methods. Since 1997, he was developing the open source software environment GetDP for the treatment of such coupled problems in collaboration with his colleague Christophe Geuzaine at the University of Liège, as well as with numerous PhD and post-doctoral students.
Patrick was an avid traveller and, as a globe-trotter scientist, he was a frequent invited researcher in France, Finland and Brazil, and was part of the scientific committees of numerous international conferences and symposiums such as EMF, Numelec, COMPUMAG, CEFC, EPNC, ACOMEN and ISEF. He was officer of the International Compumag Society since 2008 and was co-chairman of the editorial board for COMPUMAG-Aachen in 2007 and COMPUMAG-Budapest in 2013. He was chairman of six editions of the International Symposium on Electric and Magnetic Fields (EMF) between 1996 and 2009.
Over the course of his very active career, Patrick advised or co-advised several PhD theses. He will be fondly remembered by many current and former students and colleagues for his enthusiasm to communicate about his passion not only for science and engineering, but also for adventure, outdoor activities, photography and of course his three beloved kids.