Johan Le Lesle
et
Rémy Caillaud
ont reçu le prix de l'innovation 2019 décerné par la fondation SEMIKRON en collaboration avec ECPE lors de l'événement : "
ECPE SiC & GaN User Forum
" à Erding en Allemagne, fin mars 2018. Ce prix récompense leurs travaux de thèses (encadrées par Cyril Buttay, Christian Vollaire et Florent Morel) qui portaient sur l'intégration d'un convertisseur de puissance de 3.3 kW utilisant une approche modulaire ("Highly Integrated 3.3 kW AC/DC Converter Based on a Modular Approach").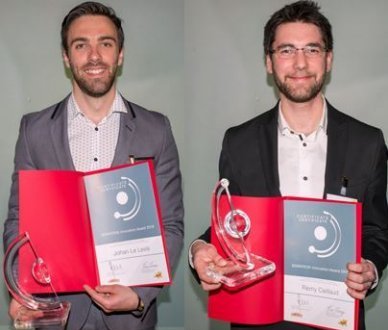 Résumé:
Un rendement élevé, une densité de puissance élevé, un faible coût et la fiabilité sont les principaux paramètres pour la conception des convertisseurs de puissance. Le prototype réalisé est le résultat d'une optimisation utilisant le rendement et la densité de puissance pour un convertisseur AC/DC de 3.3 kW (Application: Chargeur de véhicule électrique). L'implémentation utilise la technologie innovante d'enfouissement dans le PCB (Tous les components sont enfouis). Le convertisseur est composé de quatre cellules élémentaires, d'un filtre CEM et d'un filtre actif. Chaque cellule est composée de 3 PCBs et d'un dissipateur. Le premier PCB, directement sur le dissipateur, contient les composants actifs (SiC MOSFET). Le second PCB contient des composants CMS pour la commande proche. Le troisième PCB, placé en haut, contient un noyau magnétique pour l'inductance. Le prototype est le premier exemple d'un convertisseur de plusieurs kW utilisant la technologie d'enfouissement pour les composants actifs et passifs.
Abstract:
High efficiency, high power density, low cost and reliability have always been a spearhead concerning power converter design. The presented prototype is the result of a multi-objectives optimisation focused on high efficiency(η) and high power density (ρ) for a 3.3kW AC/DC converter (application: on-board battery charger for electric vehicles), and is made using an innovative manufacturing technology (all components are embedded in printed circuit boards). The final converter assembly is composed of four interleaved elementary blocks, an EMC filter(also based on embedding technology) and an active DC filter. Each block is formed of a three stacked PCBs structure on top of a heat-sink. The first PCB, closest to the heat-sink, contains embedded SiC bare dies. The second PCB contains embedded SMT components for gate drivers. The third PCB, placed on the top, contains the magnetic core for the inductor. This prototype is the first example of active and passive component embedding inthe kW range.